When it comes to the best wedding favors, you want to be sure that you are giving guests something they will actually use and enjoy!
Showing gratitude never goes out of style. And there's no better way to express that by giving unique and personalized wedding favors for your guests.
With that in mind, we have compiled this list of wedding favors your guests will love! From the traditional to the creative, here are 97 of the best wedding favors we could find that your guests will get excited about!
If you are looking for a wedding favor that will be both practical and memorable, we recommend a Koozie Can Cooler.
It is an inexpensive, reusable gift that will come in handy at any outdoor event.
Plus, your guests will appreciate having their favorite beverage stay cold all day long.
Related: 27 Wedding Favor Koozies That Will Make Your Wedding Unforgettable
The Perfect Match Bottles from The Forever Wedding Favors are great for your guests!
They are also a great gift idea if you have out-of-town guests coming in because they can enjoy them back home too!
These customized bottles come with matches.
It is essential to give your guests something that will make them feel loved and appreciated.
A Custom Deck of Playing Cards is a great way to do this. You can create a personal touch by adding your wedding date and name.
These wedding favor ideas also make for an excellent gift for family or friends you might not see often enough, as well as being the perfect wedding favor for any event!
Related: See more playing card favor ideas
A Personalized Sparkler Stick Tag is a unique way to tell your guests where they can find their sparklers. You can attach these favor tags to the sticks or put them on each table as a place card.
These unique wedding favor ideas have matching sticks and striking strips, so you don't have to worry about lighting them!
Related: See More Personalized Wedding Favor Ideas
If you are looking for a wedding theme gift that is sweet and personal, then Honey Jars are perfect.
They come in various flavors and can be personalized with a label that says, "Meant To Be", and your names and wedding date.
The containers are small enough to fit easily on someone's desk at work but large enough to hold a few tablespoons worth.
Related: 17 Sweet Honey Favors for Your Wedding
A great way to thank guests for coming to your wedding is by giving them a Personalized Starbucks travel cup.
These best wedding party favors are a practical gift that your guests can use on their daily commute or at home.
You can personalize this wedding favor idea with your name and date!
Wine stoppers are a great way to personalize your wedding favors and are practical too!
These wedding favor ideas are also a great gift for those who love entertaining but hate breaking out the corkscrew every time.
Engraved Wine Stoppers allow you to give your wedding guests an item that will make their lives easier.
Related: See more wine stopper favor ideas
Tea Party Favours are perfect if you are looking for an affordable favor that is sure to please any theme!
Tea edible wedding favors come in many different types, from Mallow to Apple & Cinnamon.
Each type is affordably priced at $1.75.
Related: 17 Tasty Edible Wedding Favors Your Guests Will Love
A Pale Pink Pashmina Shawl is a popular wedding favor idea for a destination wedding.
Not only will it keep your guests warm on your big day, but it will also be something they can use to dress up after the wedding in case they have an event or other occasion to attend.
Pair it with a heart-shaped notepad for guests to write their good wishes for your memorable celebration!
Personalized Candles are a great way to have wedding guests take home something they can use.
These wedding favor ideas are perfect for a couple who wants to keep their wedding favors as classy and straightforward as possible.
Plus, you cannot go wrong with making your guests feel like they're walking away from your big day with something unique.
Related: See more candle favor ideas
Many people choose to use goat milk soap for their wedding favors, because it is a higher quality product than most other soaps and also because it is environmentally friendly and sustainable.
Goat Milk Soap also has a pleasant smell and leaves behind a nice sheen on the skin, which makes it a great wedding favor for guests to take home with them.
This practical wedding favor is adorable. With a magnetic backing comes with a Bottle Opener, this item will stick to any metal surface.
It is also an excellent gift for friends that live in apartments because they can put it on their refrigerator.
You could even use them as party favors for an engagement party or shower!
Personalized Hand Fans are one of the best wedding favors you can give your guests.
These fun wedding favor ideas are inexpensive and personalized, and they last a long time. Plus, they have practical use after your wedding day when it is hot out.
What more could your guests want?
Related: See more hand fan favor ideas
The Sunglasses are personalized wedding favors that guests can wear as they walk down the aisle, enjoy their reception, and make memories for years to come.
And because each pair is personalized with your names on one side, you are sure to give them something they will love.
Related: See more sunglass wedding favor ideas
Most everyone knows that succulents are all the rage. They are easy to care for and make a great addition to any garden or home.
With our favorite wedding favor ideas, you can match your wedding theme!
A Small Succulent in a Silver Bucket is a unique way to thank your guests.
Our Bride and Groom White Organza Candy Bags will surely be a hit at any wedding.
These best wedding favor ideas are beautifully crafted with elegant white organza and feature a groom and bride design.
A great wedding decor gift for guests to remember your special day!
Every cute wedding favors should be thoughtful, helpful, and personalized to reflect your special day.
That is why we recommend giving your friends and family personalized lip balms they can enjoy all year long.
Personalized Lip Balm is a sweet and simple wedding favor that will make your guests feel extra loved.
Your love grew and now bloomed into getting married. Let your guests have the experience of nurturing something to watch it grow and bloom in their care with this cute favor. This concrete planter is made of white, gray, coral, and light green concrete, with a wooden tag. Have your choice of plant and be on your way to giving this away.  This is one of our favorite succulent wedding favors.
These Artisan Chocolate Bon Bons are made to order. It is handcrafted to achieve perfect flavor and beautiful artistry. These chocolates are a celebration in a box. The ingredients are simple and all of these chocolates are free from gluten, eggs, nuts, and corn products. This is a 6 piece assorted box. No guest will be disappointed leaving with these wedding favors. 
This adorable bicycle favor is one of our favorite bottle opener ideas. It is cleverly disguised as part of a bicycle tire, with a banner pulled along behind proclaiming "Our Journey Begins". Every wedding day signifies the beginning of brand new adventures. Show guests you appreciate them taking part in your new adventure with these cute unique wedding favors!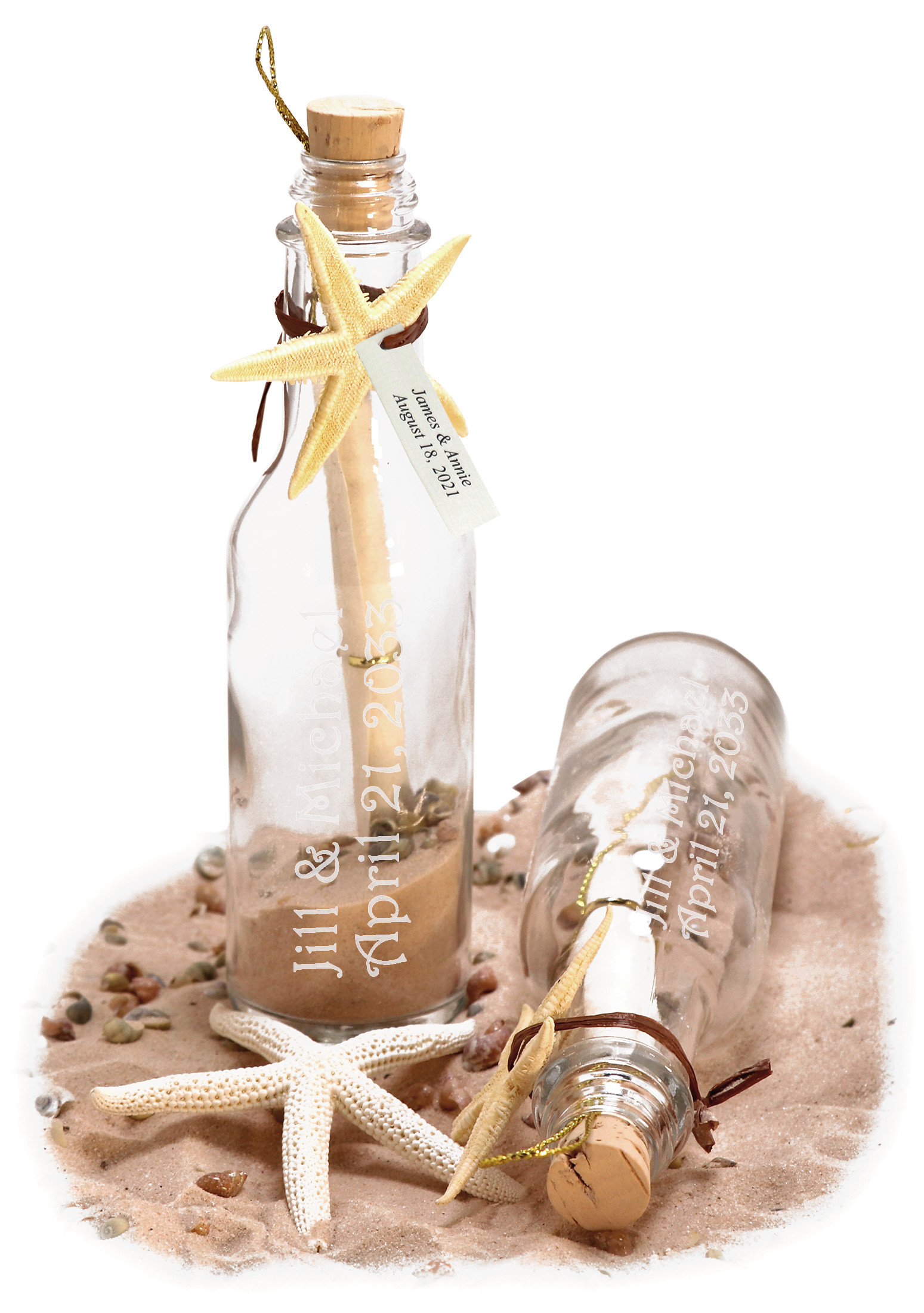 Charm your guests with this message in a bottle, Starfish edition. It poses as the perfect invitation card for wedding couples who want to stir up the guests before the actual wedding day.
Each clear glass bottle is filled with fine sand, assorted miniature seashells, and is adorned with a real starfish. Create your own message inside the glass bottle or let us do it for you. Our custom invitation is printed on an ivory linen paper and is attached to natural earthy paper.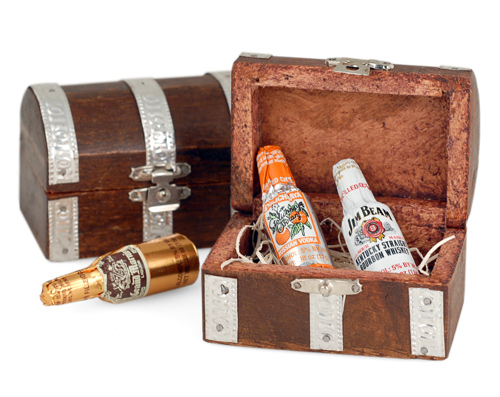 Add a dash of high seas adventure to your pirates themed party or beach themed wedding with our Wood Treasure Chest Favor Box. Made from sturdy wood, accented with aluminum strips and clasped shut with a golden colored 'lock', these little chests have an authentic feel without taking up space. A fantastic gift for all of your guests, this favor can hold all sorts of little goodies, including our mini liquor-filled chocolate bottles, or other fun, beach or pirate themed gifts! The handcrafted treasure chests add a perfect amount of fun and adventure to your event, and will have your guest smiling from ear to ear.
Treat your guests and loved ones with an aromatic experience during the wedding and let them bring home the essence with this Reed Diffuser Favor. It comes with 2 bamboo sticks, a ribbon, and a label with options for designs. Ribbon color options are baby pink, white, pink, black, lavender, and many more. Your guests and loved ones will remember the wonderful wedding they just witnessed as a sense memory the moment the smell is diffused from this favor.
The emergence of eco-friendly materials and nature-healing propaganda brought about products that will not hurt mother earth or will help her heal. This Personalized Engraved Bamboo Straws is one of them and it will make a good wedding favor. Each set includes one 8" bamboo straw and a "Thank you" note. Each straw is cut from a single stem of bamboo, unique in its variance of color, thickness, texture, and diameter. No pesticides or chemicals are used while growing or cleaning these straws. 
Your wedding favors deserve a spotlight on your event,  give your guests this beautiful antique-style skeleton key bottle opener to commemorate the occasion.  With black and gold color combo, this gift features high-quality metal, vintage-style varnish, and adorable packaging complete with a fun black chalkboard look tag. It's completely functional and sure to still be useful to your guests long after your wedding day.
Complete the look of your chic table setting with this Love Kraft Bonbonniere Paper Boxes. Made from exquisite paperboard, sturdy and harmless, these boxes are perfect containers for candies or small gifts. This gift comes with a khaki burlap twine which you can tie across or bowknot on top, which will make it more elegant and romantic. Pretty, natural and romantic. It's everything a guest wants for a thank you gift!
Add a dash of luxurious touch to your wedding with this Personalized Wedding Party Thank You Hand Mirror Favor. It presents a small mirror attached to a fairy and embellished with flowers and ribbons of your choice. A label with wordings of your preference is also included. The mirror is just the right size for quick lipstick touch-ups or random eye check-ups if you may. Rustic and elegant, simple and dainty, this favor will be perfect for bachelorette parties and on your actual wedding day.
 These cute Lovebird Salt & Pepper shakers are perfect for any style wedding.  Delight your wedding guests with two love birds that are so cute they will be thrilled to display them at their house.  They'll thank you ever time they get a compliment on how cute they are!
Talking about a unique and useful wedding favor, this Measuring Tape Wedding Favor will be an attention seeker on your day. Measuring 1.5"x1.5", this tape has an exterior that is made of hard white plastic with easy-to-grip black sides. Includes a retractable metal measuring tape inside that expands up to 100 cm or 39.25" with a black tab to hold your measurement, attached to a silver metal chain and key ring. 
These personalized sunglasses will add an extra special touch to your day.  Imagine how many fun pictures you will have with everyone at your wedding wearing these wedding favors.  You can get both arms customized, and the best part they will they are cheap and run you around $2.50 per pair.
Now and then, a favor such as this Tools in Keychain makes a great surprise for guests and loved ones. Available in your choice of black or silver-coated stainless steel, this set includes both a flathead and Philips head screwdriver with an easy-to-use flattened grip. The circle tag is laser etched by our skilled artisans to ensure the engraved design never fades away. Now even as your wedding takes place, if a need for a quick fix ever comes to view, you know your guests will come to the rescue. 
If your having a summer wedding your guests will love you for getting these hand fans.  Cute and affordably priced wedding favors are a perfect combo, and this wedding favor fits that criteria.  You can choose between 17 different colors. These will add an extra special touch to your wedding.  Like the idea of getting a hand fan but want to see more options, if so check out these great hand fan wedding favors.
This wedding favor is truly one of a kind. For a wedding favor idea that guests will love, this Credit Card Opener has it all. It is made from heavy-duty stainless steel includes and can be personalized with your wedding information and our wedding design - names, initials, dates and is laser etched into the opener in a permanent, smooth white mark. 
Filled with sweet treats, infused oils or home-made wine, guests will be thrilled to bring home this wedding favor. These wedding favors come with custom tags or labels depending on your wedding theme and set in a mini burlap and lace drawstring bags.
You have opted for a DIY favor like your favorite fruit jam or baked cookies. There's no better way to package them than using these mason jars with a cork lid. This particular bottle comes complete with a label and a string. It is made of heavy-duty clear glass that is 3mm thick, durable yet attractive. It has a wide neck and can easily store spices, candies or candles. It's convenient, practical and simply elegant.   
Give your wedding set up that rustic charm with this Tiptree Pure Honey Minis. This honey is a combination of Chinese Acacia and fennel honey that pairs well with Parmigiano-Reggiano, tangy Cheddar, spicy blue and goat cheese. It is also gluten-free and Kosher certified. This gift will be a gift well-appreciated by your guests. 
Are you ready for an elegant and unique wedding favor? This Metallic Swan Wedding Favor will swim its way into your heart as you see its beautiful finish and unique design. Made from hard raw materials (Zinc, Aluminum, Magnesium, Copper) with premium quality (Metallic material), this favor can be used to put mints or treats and even small gifts you wish to impart to your loved ones and guests. 
Let her open her favorite beverage with this fun flip flop bottle opener. This wedding favor is made of brushed metal with a rubber thong in turquoise. The ocean-inspired packaging and whispy thong that creates the sandal adds a whimsical touch to your beach-themed wedding. It's also one practical wedding favor that guests will keep handy to help quench their summer thirst.
A handmade wedding favor that is sure to leave a lasting impression, this tea infuser test tube is fully assembled. You have the liberty to choose the design, color, and type of loose leaf tea. This is one of the best tea gifts you can give to your wedding guests.   
This cute and useful shot glasses doubles up as a favor and drinkware. Place your initials and date and your guests will have all the more reason to raise a glass to you and your groom.  
Perfect for decorating Hershey's kisses party favors, these chocolate stickers simply speak of how grateful you are for the presence of your guests at your wedding. In a matte finish, it is digitally printed on high-quality paper, with vibrant colors. This favor can even be customized with your names and your wedding date.
This Cinderella Slippers Favor Holder simply speaks of elegance.Your guests would always be reminded of how your wedding made them feel like they are part of a fairytale. It also doubles as a beautiful detail to your table setting. It's one gift that is sure to delight your guests and loved ones.    
What more can you ask for? This wedding favor can be enjoyed by adults and kids alike. Let your guests enjoy this mini silver gumball machine that can contain 20 to 30 gumballs. A gift that will surely remind guests of the happy moments they had on your wedding day.  
>> Shop Personalized Wedding Favors

Make it a sentimental yet functional gift as you give your guest this compass wedding favors. No matter where he travels, he can always be directed by this sterling piece. It is made of aluminum alloy, sturdy and durable. This compass has a rich exquisite look with gold and black color finishing. No doubt about it, their thoughts will always be directed to your wedding with this special gift.  
Love is truly in the air all the way to your reception tables. Thank your guests with this impressive "Olive You" Olive Dish and Spreader wedding favor. Each set contains an olive dish that has two concentric sections and the word LOVE in the center with an olive in place of the "O". Delightful memories of your perfect day will pop up like red pimento with every olive they'll put in the dish!
Let these little golden metal kissing bells add charm to your wedding day and give them out as wedding favors. All you need is a tag and a pretty ribbon and you're all set to give these bells away.
Let your guests take home this hot moss planter that's a perfect wedding favor for your rustic or garden wedding. With an authentic natural look, guests can have it readily filled up with floral arrangements. Guests will be delighted to add this to their garden collection.   
This adorable heart-shaped wine bottle stopper is sure to stay with your guests for many years. It is made of high quality, food-grade silicone, and durable zinc alloy. It comes in a gift box complete with a nice package tag. Every bottle of wine preserved with this wine stopper is sure to bring memories of your wedding to mind.   
Make your table setting stand out with this elegantly designed beaded photo frame that doubles as a place cardholder. This beautiful gold glitter resin cube comes with the coordinating place card for your convenience. It's a versatile gift that's also a lovely wedding favor your guests will truly treasure.  
Say thank you to your guests with this scent of travels. Guests can have this handy wedding favor and create romantic moments anytime, anywhere. This compact candle tin can even be customized with the bride and groom's name and the date of the wedding. Your guests will be thinking of your big day overtime they light up this thoughtful favor.
Surprise your guests and have their favorite drinks served in this sweet sip mason jar that doubles as a wedding favor.  It's vintage-inspired, with a metallic white lid and an opening at the center for a straw. Simple yet a gift your guests will definitely treasure and remember your wedding by.
This vintage suitcase luggage tag is a unique wedding favor for your frequent flier guests. This tag is made from rubber with 3-D travel-inspired details and brown stripes. It comes with a decorative gift tag with a world map print. Make it your way to say thank you to friends and family for traveling to your special occasion.   
They won't just light up your table setting but these Vintage Decorative Mini Lanterns wedding favors are sure to add charm to your table setting. This lantern has a distressed blue finish and makes a perfect centerpiece for your reception tables. You may hang these lanterns or place them on your table setting as a free standing lamp.
Made of 100% burlap jute fabric, this mini jute gift tote bags are eco-friendly, recyclable and reusable. You can even increase its capacity because of the inner vinyl lining and full side and bottom gussets.  This is one durable tote bag that you can easily fill with treats for your guests.
Custom designed to match your wedding's theme, this mini mason jar is filled with a special jam. You can even order a filling sampler to make sure you get to choose the best one from the 8 flavors available. This comes with the fabric swatches to choose from depending on your wedding's color and theme.  
This charming orchid tea light holder by Kate Aspen is the best way to remind your guests of the enchanting ambiance of your destination wedding. Show your gratitude and let them bring home the good memories from your special day with this beautiful wedding favor.
Very ideal when you are having an outdoor wedding, this sketched hearts fan will keep your guests feeling cool and comfortable. It is made of synthetic silk fabric and real bamboo. This fan is large enough to keep you cool yet small enough to fit into your bag.
Your guests will surely be delighted with this Lego wedding favor set. This one features a mini figure of the bride and grooms complete with a bouquet and golden rings. It even comes with a wedding arch beautifully designed with heart elements and flowers. A perfect wedding favor for Lego set fans.
With 200 thick, blank pages, your guests would be able to use this wedding favor for important dates, memories, to do's and even for journal purposes. You can also customize this notepad with your monogram, wedding date, and the wedding color.  A very classy but useful wedding favor indeed!
These beautiful diamond magnets are the perfect wedding favors as your guests remember the beauty and sparkle of your wedding day. This wedding favor has three shimmering magnets placed in a retro-styled packaging. 
Both functional and stylish, these vintage key bottle stoppers are perfect at your reception bar, as wedding favors or as gifts for your wedding party. The stoppers are made from zinc alloy and rubber with an aged bronze finish. The perfect accessory to any wine bottle!
Let your guest be reminded of you and your groom's special love for each other with these playing cards as the wedding favor. Heart shaped and designed with a "two-of-a-kind" quote at the back and placed in a customized black box, this is the perfect wedding favor for that classy wedding.    
Let this mini heart bubble wands add more fun as you celebrate your wedding. Guests would be delighted to use this as they welcome you to the reception or as they send you off to your honeymoon. This wedding favor is made of high-quality plastic that's easy to dispose and pre-filled with non-toxic, clear bubble liquid that is sure not to stain. It's one wedding favor that's a sure fun way to enhance your wedding.  
Made of 100% burlap  fabric, this mini gift tote bags are eco-friendly, recyclable and reusable.  This is one durable tote bag that you can easily fill with treats for your guests.
This sail away magnet favor gift is perfect for your nautical or beach inspired wedding. Let your guests remember the happy times spent with you on your special day. Charming and durable, this wedding favor is also useful for displaying treasured memories.
Let these planter stakes express your gratitude to every guest who attended your wedding. Place them on pots containing you're chosen an indoor or outdoor plant that is sure to stay with your guests long after your wedding day.
All wedding favors are unique, but a few stand out more than the rest. Adding a sleek sense of memorable elegance that is only outdone by the way you looked on your big day, this Lemon Drop shaker combo drops a bit of fun right into your guest's lap.
This bottle opener declares the new adventure you are about to begin in your season as a married couple. And it is also a great way to thank guests with the same message, as they have truly extended the support and effort for your wedding day.
This adorable heart-shaped wine bottle stopper is sure to stay with your guests for many years. It is made of high quality, food-grade silicone, and durable zinc alloy. It comes in a gift box complete with a nice package tag. Every bottle of wine preserved with this wine stopper is sure to bring memories of your wedding to mind.       
Surround your engagement party or wedding venue with a scent that exudes elegance and romance with this Luxury Wedding Candle Favors. Apart from its beautiful visuals, these candles will be a treat to your guests and loved ones as they make each bath time cozier and each dinner experience more romantic in one click. Fragrance options are Lemon, Rose, Lavender, and Vanilla. Lighted or not, these candles will already put everyone in an aromatic mood in one sniff.
You won't have to think twice when giving out these unique heart-shaped magnet back photo frames. They are stylish, modern and a romantic keepsake that your guest would be able to remember the bride and groom by.   
The diamond bubbles come in a clear diamond-shaped plastic capsule with a metallic gold stopper. Let your guests celebrate your special day as they blow the bubbles to send you off to your honeymoon. It will not only look good in pictures but it's a fun gift that will surely be loved by adults and kids alike.
Your smiles on your wedding day will always be remembered when you give out these mini photo frames magnet set as a way of thanking your guests. This wedding favor can double as a table number or place marker and something the bride and groom can write their message to.    
Hand this Muslin bags with English lavender flower buds that are highland organic and naturally dried as your way of saying thank you to your guests. Affordable and useful, guests can use them as drawer sachets, closets, car, beauty bags, pillow, night stand, storage bins and even for relaxing as they go to sleep. They can even reuse the easily re-sealable craft bag.  
Want your guests to forever remember your outdoor wedding celebration? These hand fans fans have served its purpose by keeping your guests cool and comfortable all throughout your special day. The best part is they can bring home these hand fans fans with your names that double as wedding favors.   
The elegant details of these subtle silver frames and place card holders make all the difference. Measuring 3.8" x 2.8" and backed with luxuriant black velvet, they add elegance and sophistication to any event. Take it from us, your guests are bound to be impressed!
Make your table setting stand out with this elegantly designed beaded photo frame that doubles as a place card holder. This beautiful gold glitter resin cube comes with the coordinating place card for your convenience. It's a versatile gift that's also a lovely wedding favor your guests will truly treasure.  
Your rustic table setting won't be complete without this Antler Bottle Opener. It is made from resin and metal and is especially packaged in a kraft box with dark brown suede cording adorned with a decorative kraft tag. The elegant charm would surely delight your guest as they bring this wedding favor with a bottle of wine you have thoughtfully placed on their tables.
Make your wedding favor something they can bring each time they travel. These US made recycled leather luggage tags make a great favor for your wedding guests. Choose the leather and foil stamp color that matches your wedding theme. It comes with a traveler info card and a gold or silver buckle finish. Have this wedding favor custom made depending on your style. 
Complete the look of your table set up with this faux-moss planter. Have your flowers placed in this fully lined wicker planter and let them naturally shine. Thank your guests in a unique way with this gift. As they see this displayed in their own homes or gardens, they will definitely be reminded of your beautiful wedding.
Place your mint favors in this classy tins and instantly bring your table's ambiance a notch higher. Delight your guests as you place your treats inside this tin made from metal with an elegant silver finish. It has a clear plastic on top that allows guest to know what's inside. It's also the perfect spot for your high class metallic or metallic silver foil sticker with white print.   
Give your wedding set up that rustic charm with these mini Mason Jars. Not only can they used in many different ways, this is one wedding favor that can beautifully contain your DIY favors. Place your favorite jam, honey, or special candies in these mason jars and it doubles up as a wedding favor. You may also place some tea lights, flowers or succulents to create a romantic and rustic ambience for your wedding. These mini mason jars will definitely be a gift well-appreciated by your guests.
Everyone loves a treat! Make your treats the center of attention as you fill this mini glass favor bottle with specially made candies or sweets. It has a fun swing top that keep your treats fresh.  
Direct your guest to their seats but let it be the very thing they get to take home as a special thank you gift from you. Your beach wedding will be perfectly accentuated with these nautically inspired weigh anchor wedding favors. Make these gorgeous place card holders be your way of showing gratitude to family and friends for making your wedding a very special one.         
Customize this mini plastic bottle with a personally designed label and what you have is an instant classic favor. Fill this plastic champagne bottle-shaped container with amazing treats that guests will truly love. The bottle top is made from shiny silver plated material to imitate the champagne's foil wrapped cork. It has a removable bottom panel that allows easy access to fill and remove treats too.  
Looking for a wedding favor that completes the look of your cottage themed wedding? These personalized candle tins have a whimsical adventure design, a compass dial and vintage décor map. Decorate your table setting with these lovely candle tins and let guests bring them home as a keepsake from your unforgettable wedding. 
Glamorously designed, these diamond top pens are the perfect wedding favors you're looking for. Add some dazzle to your table setting as you place these sparkly doodlers for each guest. The pens are available in brushed gold, rose gold and brilliant silver. It can even be placed in a velvet drawstring pouch available in a variety of colors to match your wedding motif.
This Victorian-inspired key is beautifully disguised as a bottle opener. A lovely wedding favor that will have your guests recall your romance every time they pop open their favorite drinks! Let your guests know how much you appreciate them by giving this elegant item as a wedding favor.
A wedding favor made of alloy metal and aluminum with chrome plating, this fashionable wine bottle stopper is designed with a delicate butterfly on top. It comes with a printed box designed with a graphic floral pattern, tag and ribbon. This durable and functional gift will surely be used by your wedding guests for many years. 
These honey dipper sticks are made of 100% natural wood and are food grade safe. At 3 inch, the groves of this wooden dippers help collect and dispense honey from the jar easily. It's individually wrapped and is a perfect pair for 1-4oz honey jars. It's one useful thank you gift your guests would really find useful as they enjoy their jar of honey.
This pineapple salt and pepper shaker set will let your guests reminisce your wedding day each time they add flavor to their dish. Each pineapple piece stacks together as it is custom designed to sit atop one another. This salt and pepper shaker is both functional and affordable. It comes labeled with a pineapple shaped sticker in gold foil that can be removed. This wedding favor is made of high quality porcelain and is one perfect favor for your guests.
They would surely reminisce on good memories of celebrating your wedding day each time they make their cup of tea with this tea time heart tea infuser spoon. This wedding favor is placed in a clear-display box gift presentation with thin silver stripes adorned with a white organza ribbon and bow ready to be handed to your guests and loved ones.   
This small, silver photo frame features a heart-shaped detail that is ideal for a wedding favor or place card holder. Get creative with whatever you decide to "frame"! Use as a place card holder, table number holder or insert a photo of the happy couple as a take-home keepsake. Finished with black velvet on the reverse side means it will look nice from any direction.
Create that calm and relaxing ambiance as you decorate your tables with this stunning beach themed candle favor. The clear glass outer holder is designed with a floating seascape topped with a central clear plastic holder with a white wax tea light candle inside. The underwater scene is suspended in a clear gel to ensure stability. This wedding favor is beautifully packaged in a clear display box and tied with a blue satin ribbon complete with a tag and ready to be given to guests and loved ones.
A table accessory that will surely add elegance to your wedding, these charming and practical mini-lanterns are set to impress guests and provide that romantic mood and ambience as they light up your wedding venue. Guests will be delighted to know that they can bring one of these lovely, glossy white aluminum lanterns home as a thank you gift from you.
On the night that you give your husband-to-be the key to your heart, give your guests this beautiful antique-style key bottle opener to commemorate the occasion. Featuring high-quality metal, vintage-style varnish, and adorable packaging complete with luxurious purple satin gift ribbon, the disguised Key to my Heart Bottle Opener makes the perfect wedding favor for any vintage-inspired wedding. It's completely functional and sure to still be useful to your guests long after your wedding day.